April
Apr. 9, 2017 2:00 p.m.
"The Wonder Team in the White City: U.V.M. at the Intercollegiate Base Ball Tournament of 1893."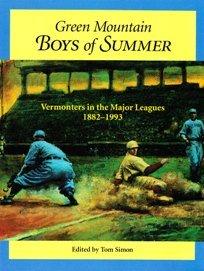 Located 35 miles south of the Canadian border, the University of Vermont has neither the geography nor the climate of a typical college baseball powerhouse. In fact, in 2009 it did away with its varsity baseball program altogether. Yet in the early 1890s U.V.M. fielded a baseball team as competitive as any in the country, reaching its apex when it participated in the Intercollegiate Base Ball Tournament at the 1893 World's Fair in Chicago. This talk examines the secrets of the Wonder Team's success: who its players were, how they got to be so good, and what happened when they played in what was essentially the first College World Series.
The baseball field at that time was just a short walk upriver from the Homestead, on what is now called Intervale Road.
Founder of SABR's Gardner-Waterman (Vermont) Chapter, Tom Simon edited Green Mountain Boys of Summer: Vermonters in the Major Leagues,1882-1993 (New England Press), winner of The Sporting News/SABR Baseball Research Award for the year 2000. Tom is a partner in the Burlington law firm of McCormick, Fitzpatrick, Kasper & Burchard, P.C.